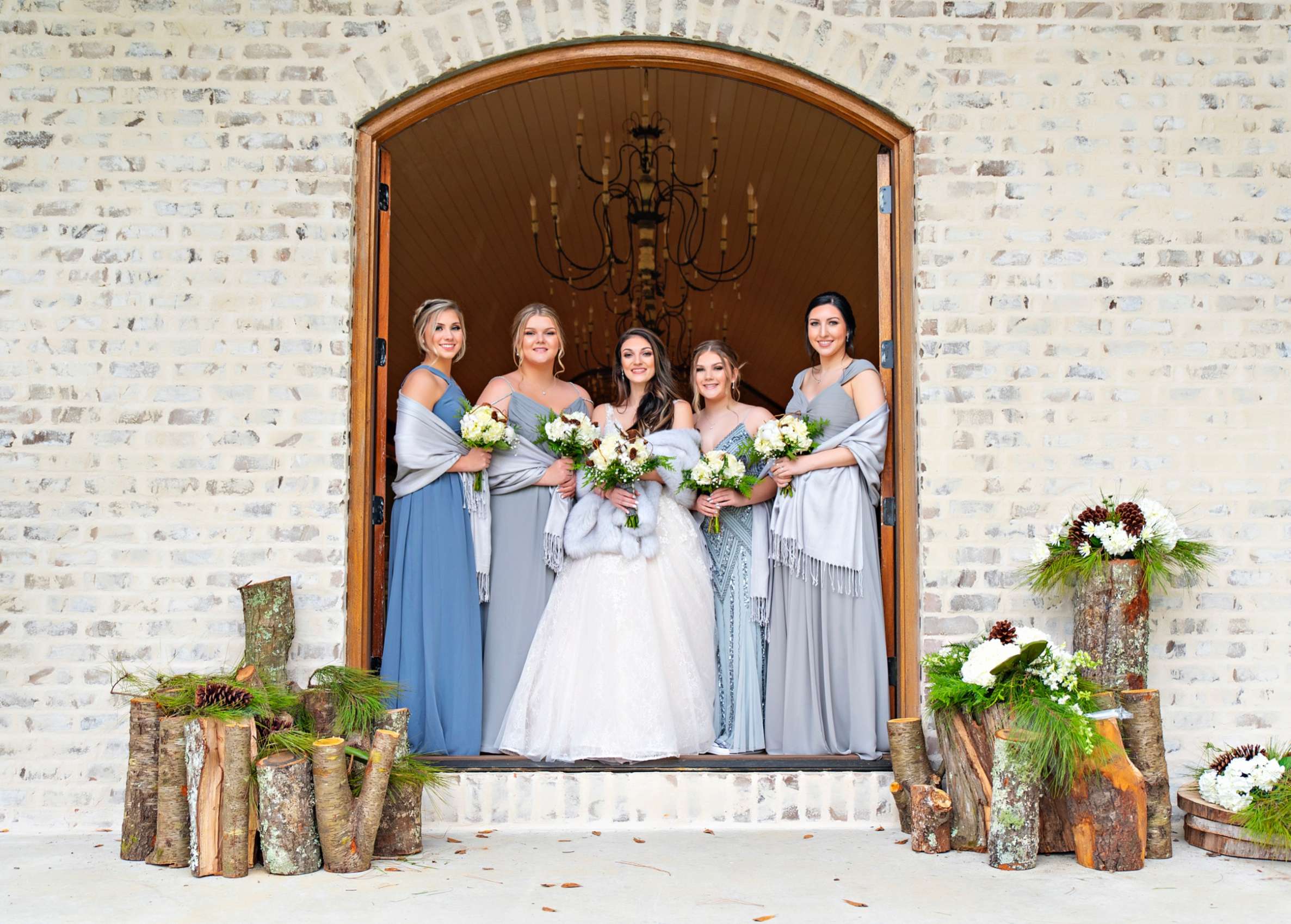 Before heading to your venue or your getting ready location, there are some essential items that need to be in your wedding day emergency kit in case something unexpected happens. 
Making a wedding day emergency kit ensures that, even if something goes wrong, you're prepared and can move past it with ease.
These items can vary from bride to bride, but we've compiled our list as a guide for what you might need!
Wardrobe Malfunction Help
No one ever wants to think that something could happen to their dress or their bridesmaids' dresses on the big day, but accidents happen. 
A bridesmaid gets a drop of coffee on her dress? Not a worry when you carry a stain remover pen with you! 
Someone's dress doesn't quite fit right? Easily remedied with the help of fabric tape and/or a sewing kit! 
Your gown has a few wrinkles that won't lay flat? A portable steamer is perfect for helping your gown look absolutely flawless. 
Carrying a few products specifically designed for wardrobe malfunctions ensures that when it's time for the ceremony and reception, everyone in your bridal party will look picture perfect!
Cosmetic Rescues
One thing you really don't want to worry about on your wedding day? Fly-aways or flaking mascara! Of course, you want to stay photo-ready the whole day and night.
We know your hair stylist will use plenty of hairspray to keep every strand where it's supposed to be, but having a small bottle of backup hairspray never hurts!
Keeping some extra bobby pins on-hand will make sure you're ultra-prepared especially if you or anyone in your bridal party is going to have a complicated up-do.
When it comes to your makeup, you can pack your entire makeup kit, or you can bring a few select items that can help with touch ups as needed.
To keep your lips ready for a night of smiling, eating, and kissing, we recommend bringing a lip balm and lipstick with you. Then you need just a swipe, and you're back to looking as perfect as you did before enjoying your dinner and cake! 
The last thing your makeup artist will do is apply plenty of setting spray, but keeping some on hand and applying a few sprays occasionally throughout the night will ensure your makeup stays put even while you're dancing the night away. 
We know you've gotten your nails done so you can show off your new wedding ring, so consider bringing some nail polish with you in case of any chips!
Tweezers may seem like overkill, but you never know when you'll need them. Plus, they're so small that they'll be easy to fit in your emergency kit.
And last but not least – Earring backs can fall out easily, so bringing a few extras will save you from having to go without your earrings if one should fall off during the ceremony or reception. 
Even More Help
When you're packing to get ready, include the basics – toothbrush and toothpaste, deodorant, hair brush, etc. Having each of these on hand throughout the big day is a good idea because you never know when you'll need a little refresher throughout the night. 
Having a small first aid kit is never a bad idea, especially on your big day. If you or your bridal party get blisters from your shoes, those bandages will save the day!
Bring peace of mind with you by packing some feminine hygiene products. Even if you don't think you'll need them, it's always better safe than sorry.
There may be more that you and your bridesmaids think of in the weeks leading up to the wedding day, so it's best to have a running list of what you'll need. Consider putting your kit together a week or so before the wedding – that way, you can add little things as you think of them.
Our absolute biggest tip? Having one of your bridesmaids be responsible for making sure the emergency kit makes it to and from each destination. This way, you'll have what you need but it won't become a burden for you.
On a day as important as your wedding day, it never hurts to be as prepared as possible, and we love providing you with everything you need to know for your big day! 
We're here for all your wedding needs, so if you have any questions, contact us today at (601) 590-3790.