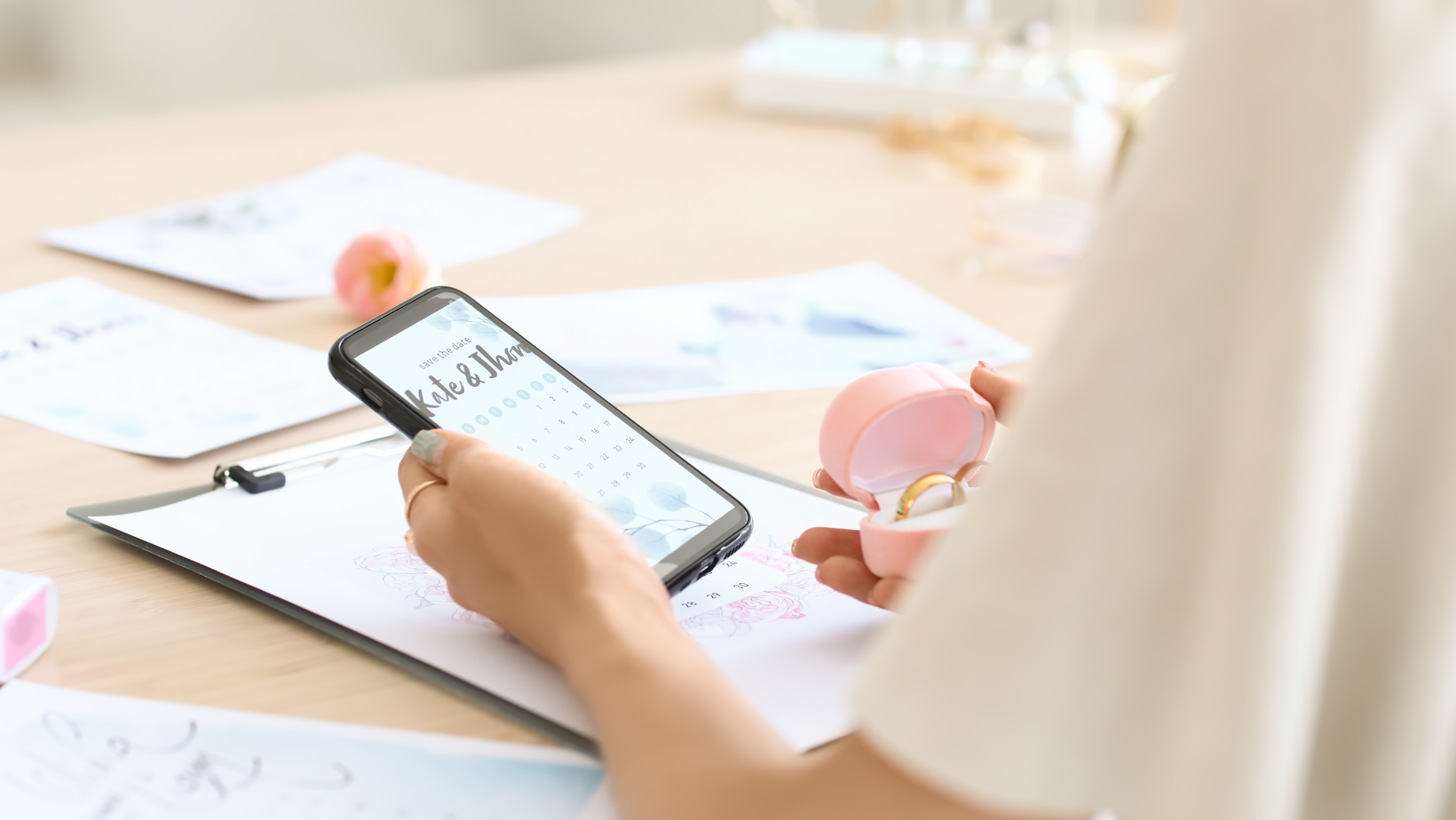 Wedding Timelines: What You Need To Know
You've hired a band and found your wedding gown, but that isn't the end of planning for your wedding! 
Let's talk all about timelines and where to start!
Why Use a Timeline?
Timing on the day of your wedding is EVERYTHING! With so many different parts working together to make your fairy tale day come true, keeping to a schedule will ensure that no one is kept waiting.
Any vendors you have hired as well as any others who are integral to your wedding day including your florist, photographer, and transportation will want a copy of your timeline.
They'll need to know exactly how to accomplish everything they are responsible for to make your day pop!
It sounds dramatic, but being off by a few minutes can have a snowball effect. 
Being late to hair and makeup leads to being late for pictures, which leads to rushing to the ceremony…Sounds stressful, right? 
But don't worry – With your timeline planned out, you'll be maxin' and relaxin' on your big day!
Before You Start
Weddings vary from person to person, so make sure your timeline is individualized to your day. 
Here are some key details to consider before you map out the big day:
Are you getting ready somewhere separate from where the ceremony is being held?
Will you and your guests need to travel from the ceremony to the reception venue? 
Mapping these distances out beforehand will make sure you have enough time to get from point A to point B. 
Our advice? Factor in a few extra minutes for travel time just in case you run into unexpected traffic!
Another aspect to think about for your timeline is whether you want to do pre-ceremony pictures, a first look, or anything else where you will need your photographer and/or wedding party ready earlier. 
A first look and other pre-ceremony pictures will save you time between the ceremony and reception…
But you must be sure to schedule time for them so that everyone can be present and ready! 
Before "I Do"
Once you're ready to start scheduling, think about a basic framework for everything that takes place pre-ceremony – like hair and makeup and pictures. 
Keep in mind what time your ceremony starts as well as your reception start and end time. This will give you a basic outline of the day.
While you're thinking about the getting ready process, the key to being ready with hair and makeup done on time is to start early! 
Starting earlier than you think you need will give you more time to kick up your feet and relax throughout the day.
Once you have the basics figured out, add in all the little details.
One part of the day that is easily overlooked is breakfast. 
Whether you want to make yourself something or have something prepared and delivered to you, you will absolutely want to make sure you started the day with something to eat!
And hair and makeup time is important, but be sure to include time to get dressed! 
You will specifically need a dedicated amount of time for putting your dress on if your gown includes a multitude of buttons, delicate lace, or anything else that may require some diligence.
Feel free to get as specific as possible when planning so that you are as prepared as you can be day-of! 
Our absolute biggest tip for everything leading up to the ceremony? Round up! 
If you think something will take 15 minutes, budget 20 to 25 instead – we promise that extra time will save you at some point!
Happily Ever After
The last part of your timeline should include the ceremony and reception. Since most churches and venues will provide you with the start and end times, you won't have as much to figure out on your own for this part.
Continue allowing extra time for different aspects of your day including allotting time for guests to take their seats at the ceremony.
When planning your reception, include times for the bouquet and garter tosses, dances, cake cutting, etc., but if you don't stick to these specific times, that's okay! Just knowing that you'll have time to do everything you want will give you peace of mind.
One detail to be sure to include in the reception timeline is a dedicated time to eat for just you and your new spouse.
We suggest doing so between the ceremony and your entrance at the reception. That way, you'll actually be able to enjoy the menu you picked out! 
And there you have it! Your wedding timeline is all planned out. Before you know it, you'll be out on the dance floor as a newlywed! 
Questions about timelines or other aspects of wedding planning? Just ask us! 
If you are just starting your wedding planning process and are looking for a venue, we would love to be a part of your big day!