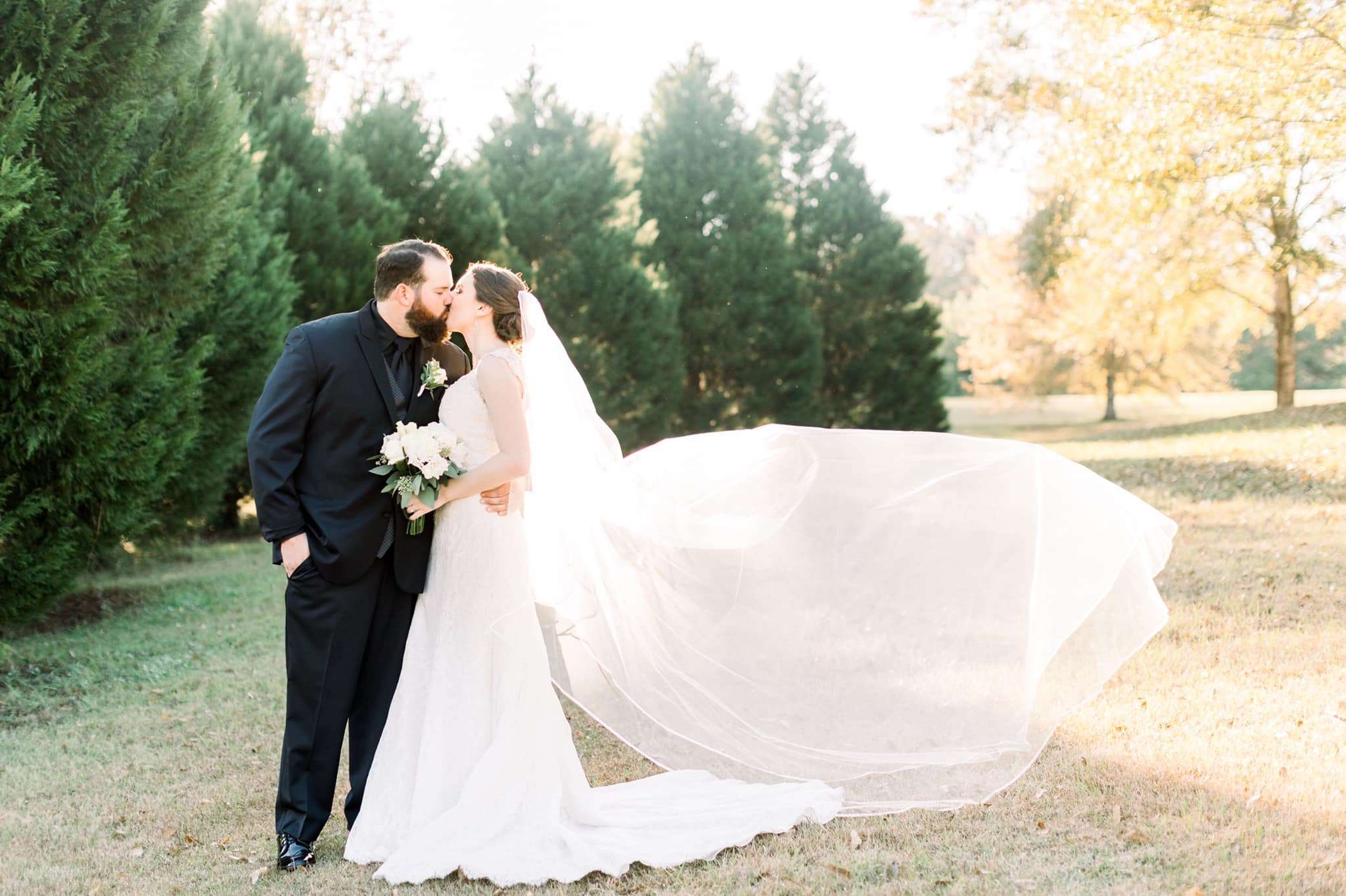 To Veil or Not to Veil
You found the dress, and now you have to decide whether to add a veil! 
If you decide to compliment your dress with a veil, the decision can be just as daunting as picking a dress due to the number of styles, lengths, colors, and more. 
We're breaking down everything you need to know before you shop!
Styles and Lengths
There are four main styles of veils that correspond to their lengths: birdcage, mid-length, blusher, and cathedral. 
The birdcage veil is a small veil that is positioned atop the head. It covers the eyes and ends at the cheekbones and is perfect for if you're searching for a vintage feel. 
This slightly more casual look pairs well with wedding dresses that are less formal and have a cocktail dress look. 
Next, the blusher veil is a traditional, sheer veil that covers the face and is lifted during the ceremony. 
And you can have multiple layers to a blusher veil to create a ripple effect down the back of the head or neck. 
Mid-length veils typically end at the elbows, fingertips, or small of the back and accessorize a dress while still allowing the dress to take center-stage. 
And finally, cathedral veils add a dramatic flair to wedding gowns as they are the longest of all the styles and are typically adorned with beads and/or lace edges!
The biggest consideration to make when determining which style you like is thinking about what element you want your veil to add… 
Can't decide which you think would compliment your dress best? 
Try on different veil styles at a dress fitting! This way you'll see exactly how each type affects the overall look of your dress. 
Colors, Textures, and More
First – yes, veils come in multiple colors. 
When it comes to which color veil to choose, you're going to want to look for a color similar to your wedding dress. 
If you're not trying on veils at the same place you bought your dress, make sure to ask your dress supplier for the exact color of your dress before beginning your veil search. 
Why? Having similar colors will help create a seamless blend between the veil and dress so that your veil does not detract attention from the dress. 
The next question you need to ask yourself: Whether your veil should include lace or not! 
Of course, there's no wrong answer. Even if your dress has lace on it, you can always have more in your veil because remember – the laces don't have to match.
If you think your dress has enough lace and embellishments, you don't have to incorporate those elements in the veil. It's completely up to you! 
And lastly…you should consider how you plan to have your hair done. 
If you're leaning toward an up-do or half-up-half-down, adding a veil will be no problem because you'll easily be able to slide in the comb at the end of the veil. 
If your desired hair style is wearing it completely down, it won't be impossible to add a veil, but it will be more complicated. 
Our biggest piece of advice? If you're adding a veil and wearing your hair down, make sure the veil has a metal comb. It'll make securing it that much easier – trust us! 
So at the end of the day, the biggest question to ask yourself before deciding to add a veil or not is "Will it compliment my wedding look?" 
If the answer is "yes," go pick out that veil! But if not, we know you'll look stunning without one! 
Can't get enough wedding content? Follow us on instagram at https://www.instagram.com/thevillareservations/ or Facebook at https://www.facebook.com/thevillareservations!