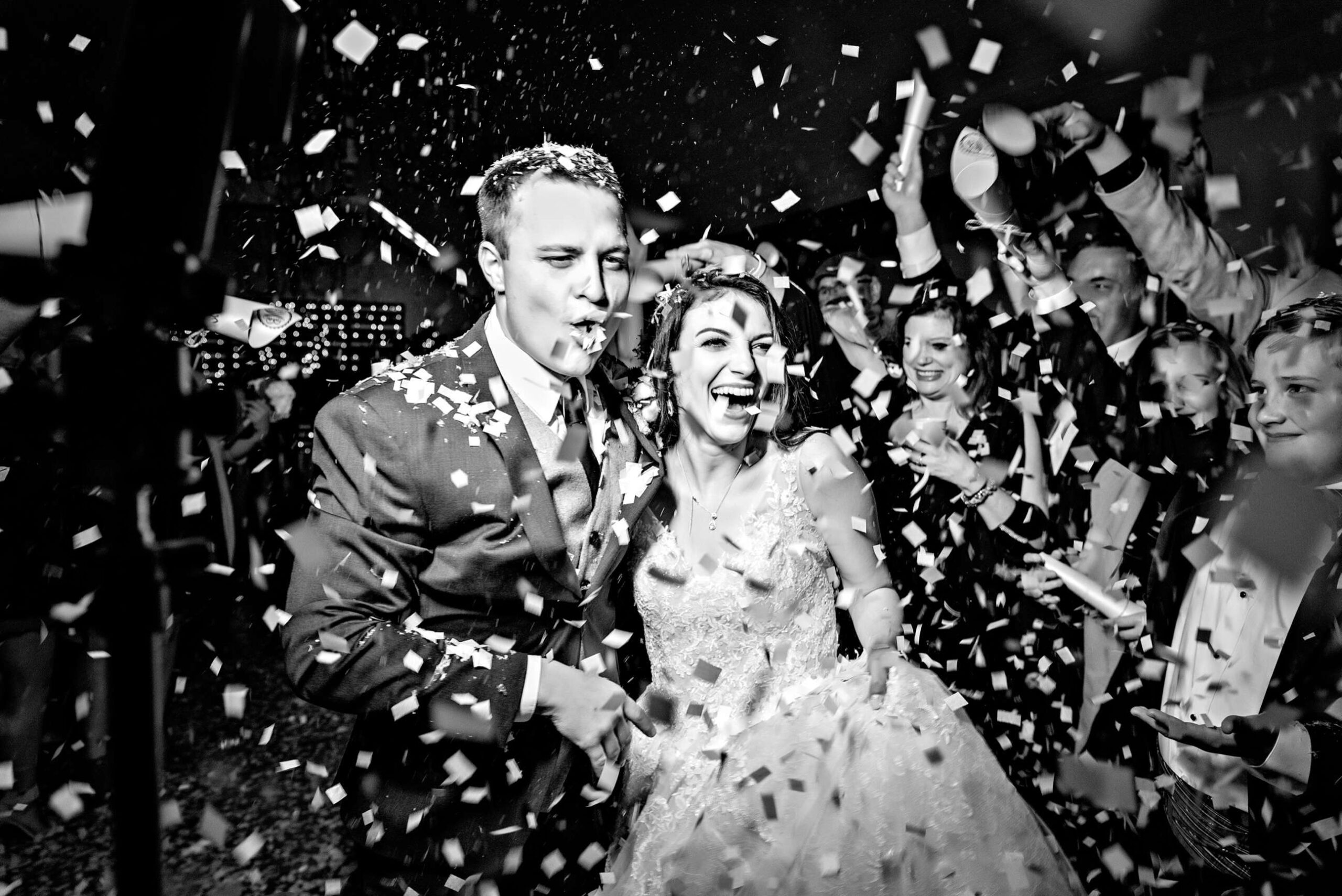 The Right Photographer and Videographer
Your vendor search can feel like a lot of work on top of everything else you have going on.
And while you should take the time to make sure you're selecting the right people, we don't want you to stress over it.
So we pulled together some best practices for finding your photographer and videographer!
Photography
First things first – do your research! It's important that before you begin your search for a photographer, you know what type of photography you prefer. 
Some of the most popular styles are traditional, documentary, editorial, dark and moody, aerial, fine art, and warm. 
If you're not sure what style is best for you and your partner, think about your wedding aesthetic and theme, and go from there!
Once you've chosen your style, start searching for photographers in your area. If your wedding is a destination wedding, reach out to your venue for recommendations
Then make a list of photographers within your budget that fit your style. You'll want multiple options in case your #1 photographer is already booked on your wedding day.
It's helpful to look through their website portfolios and read reviews. You should also check their social media feeds to make sure you like what you see
If you're having trouble, ask friends and family for their recommendations. Sometimes word of mouth is the best kind of review
You can also ask your venue for photographers they've worked with and recommend. (Pro-tip: check our social media! We tag photographers who have previously worked events at The Villa.)
When you've finished researching, narrow down your options, and then start reaching out!
Right off the bat, there are a few must-ask questions for all potential photographers…
…Make sure that you'll receive full print and digital rights.
…Ask what their turnaround time is for receiving your photos post-event (don't be surprised if the answer is several weeks to a few months – that's standard).
…Check how many years of experience they have with wedding photography. 
…Ask about their approach to the photography process. Are they outgoing and like to ask guests to pose for photos? Or do they prefer to take candid shots as a fly on the wall?
…Know how much coverage you need and be sure to check that they offer it.
Your wedding photographer should hit all the things on your list – and also be someone you're comfortable with!
The last thing you want on your wedding day is to be uncomfortable.
You should be at ease with your photographer and trust their expertise and energy. 
A great way to test this out is with an engagement session! 
When you've chosen your photographer, schedule some photos for your engagement session to make sure you work well together!
Lastly, be clear with your expectations. If there are must-have poses or shots you love, show them to your photographer so you're on the same page. 
There should be open and honest communication between you and your partner and your photographer on your wedding day. 
After all, you want them to capture your truest selves on your big day!
Videography
Hand in hand with photography, videography is a beautiful way to capture the memories of this special time. 
If your chosen photographer has videography packages, congratulations! That's the best and easiest way – work with the same company for both services. 
If not, the search process is similar to how you find your photographer. 
Look at different video styles and find a videographer who matches your aesthetic and style.
Ask the important questions:
…How much experience do they have? 
…What's their typical turnaround time for the final video?
Remember that if drone video is something you're interested in, you'll want to ensure that your videographer is licensed as a drone pilot! 
Just as important as with your photographer, know how much coverage you want or need so that you know how much time you need to book.
And of course, you should be comfortable with your videographer, too. Make sure they're someone you communicate well with and someone you want to have around on your wedding day. 
And that's all! Two more things off your wedding to-do list. 
The big day can't come soon enough!
Next month we'll help you choose more vendors…and keep the party going! 
In the meantime, visit https://thevillareservations.com/ to answer any questions you have about us!