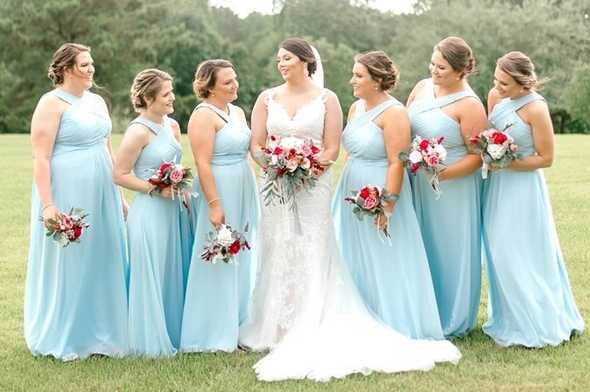 Shower Your Bridesmaids with Love
Your bridesmaids are your absolute closest friends, and we know they can't wait to celebrate your love. 
But first, it's time to show them some love in return! 
We've got you covered with the best ways to spoil your ride or dies. 
Popping the Question
If you haven't asked your bridesmaids to be a part of the bridal party yet, this will be the first time you'll want to present them with a little something because assuming they accept, being in a wedding is a big commitment! 
As far as what to give when you ask them, we suggest keeping it relatively small.
A bottle of wine or champagne will help start the celebration of your friendship and what each member of your bridal party means to you.
Thematic goodies will also go a long way! For example, if you know your bachelorette party will take place on a beach, get the party started by gifting your bridal party some beach necessities – like flip flops, monogrammed beach towels, or beach totes. 
If you're looking for something to do together instead of gifting something tangible, give the gift of quality time! Treating your bridesmaids to dinner will go a long way and will help you create even more memories together.
Make it even more sentimental by choosing somewhere that has significance to your friendship if possible! 
The Big Day
The next time you will want to have a little something for your bridal party is on the day of (or a few days before) your wedding.
If you will be taking getting ready pictures, you may want your bridesmaids to be in matching or coordinated outfits, and these make the perfect day-of gift! 
Lounge wear, pajamas, or robes are not just comfy but practical – no worrying about makeup transferring or a bobby pin falling out of place when removal is easy!
If you want to keep things small, a gift bag with a few small necessities goes a long way. We love wedding "survival" kits! These can include extra bobby pins, tissues, and maybe some water and pain reliever for the next morning. 
A small piece of jewelry like a necklace, earrings, or bracelet is such a sweet way to say "thank you," and we suggest coordinating the jewelry with your bridesmaids' dresses so that they can wear it that day! 
Want to take it up another level? Coordinate the jewelry with something you are wearing that day too, and they'll feel that much more special to you! 
What's better than a gift that is a treat for your bridal party and for you? Providing snacks and drinks during the getting ready process is one of the best gifts a bridesmaid can be given, and you'll need the sustenance too! We love a win-win.
Ballin' On A Budget
Want to spoil your bridesmaids but have a tighter budget? Not a problem! 
Try giving them something homemade and heartfelt like a handwritten letter. Receiving a letter describing what their friendship means to you and how much you appreciate them will leave them feeling cherished and loved. 
Another budget-friendly gift? A framed picture of the two of you, especially if it's from a particularly memorable event or point in your friendship. 
Pro-tip: use a black and white filter and frame the picture in a silver frame – such a timeless look that will match any setting for years to come!
No matter what you choose, you'll probably want to bring some tissues with you… because there will be water works!
Most importantly – Don't let this part stress you out. After all, these are the people you love the most, so they'll be appreciative of anything you give or do for them in exchange for being a part of your wedding day! 
Looking for more help through the wedding planning process? We have you covered with more at https://thevillareservations.com/. 
Ready to start planning your perfect day? Give us a call at (601) 590-3790 today!