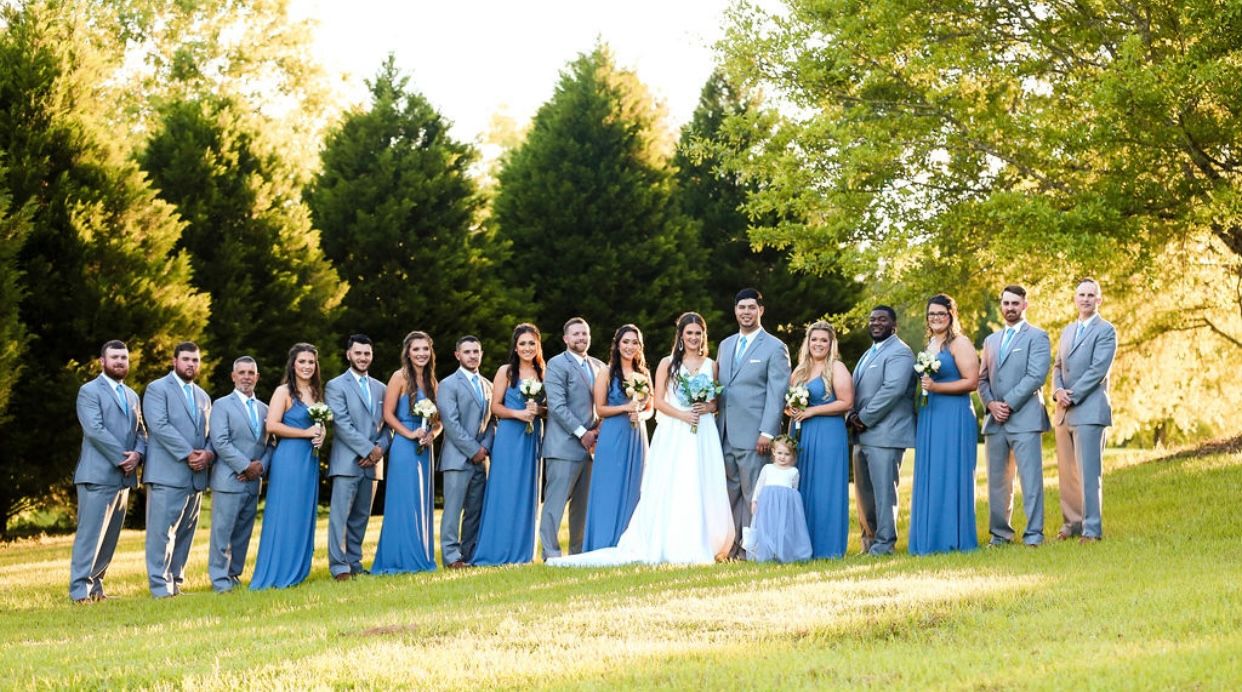 Say Yes to the Dress: Bridesmaid Edition
One of the most exciting and potentially most daunting parts of wedding planning is deciding what to ask your bridal party to wear on your big day.
Differing styles, changing trends, and varying budgets mean there are a LOT of factors to consider. But don't worry, we're going to break down the most important things to keep in mind before you start sending out fabric swatches and links to dresses! 

Fitting the Vibe
Before jumping straight into shopping for your bridesmaids' dresses, think about YOUR dress. What style did you choose? What fabrics and cuts will compliment your gown? 
One key way of tying bridesmaids dresses in with your entire wedding aesthetic is to have aspects of their dresses that call back to yours. 
For example, if you have intricate beading or delicate lace in your gown, look for similar qualities in bridesmaids dresses. 
Or if your wedding theme is whimsical or ethereal, look for flowing bridesmaids dresses that convey a whimsical feel.
As for the age-old question of short or long dresses, one way to figure out which will look best for your day is to consider whether you are looking for a more formal or casual wedding aesthetic. 
A rule of thumb? Typically shorter dresses are more casual than floor-length gowns. So if you're looking for a boho style, shorter bridesmaids dresses will probably be the perfect fit for you! 
Don't be afraid to branch out from the "norm" though. This is your day and should bring your vision to life. 

Keeping to a Budget
No one likes talking to think about the budget, but we can't stress enough how important it is to have an idea of your bridal party's budget before choosing what you'll be asking them to wear.
We're sure your nearest and dearest friends are aware of the financial obligations of being in a wedding, but it's always best to be considerate of what they can afford. Believe us, it'll help keep the process fun and stress-free for everyone!
Once you know what you're hoping their dresses will look like and how much they're looking to spend, take a look into budget-friendly options for dresses. 
With a multitude of online options, finding something that fits your vision and their budgets will be easier than you think!
One way that you can help keep things budget-friendly is allowing your bridal party to choose their own accessories. You can still provide guidance of the metals or styles you'd prefer, but they get to determine how much they spend. A win-win for everyone!
One of our favorite pro tips? Gift your bridal party a piece of jewelry that compliments their dresses. This way, you thank them for being a part of your big day and they will all have a coordinated accessory!
Allowing Some Individuality
If you're considering giving your bridesmaids the option to pick their own dresses, we HIGHLY suggest providing them with some guidelines first. 
Think about which aspects of their dresses you'd like to keep the same across the board.
Maybe you want all of them to be the same length and/or same color? Or maybe you want the fabric to remain consistent?
You'll also want to consider anything you especially do not want your bridesmaids' dresses to include. For example, if you don't want any dresses to be strapless, speak up.
It's your day, so any rules you'd like them to stick to are fair game!
Keeping a few things uniform allows your bridesmaids to stand out from the rest of the guests, so do be afraid to be as specific as you want…
But remember that you should allow your closest crew to express themselves!
All of you are going to look incredible on the big day, and we can't wait to see how you decide to outfit your besties! 
Looking for more wedding planning tips and tricks? We'll be back with more next month, but in the meantime visit https://thevillareservations.com/ for information on how we make your dreams come true at The Villa!