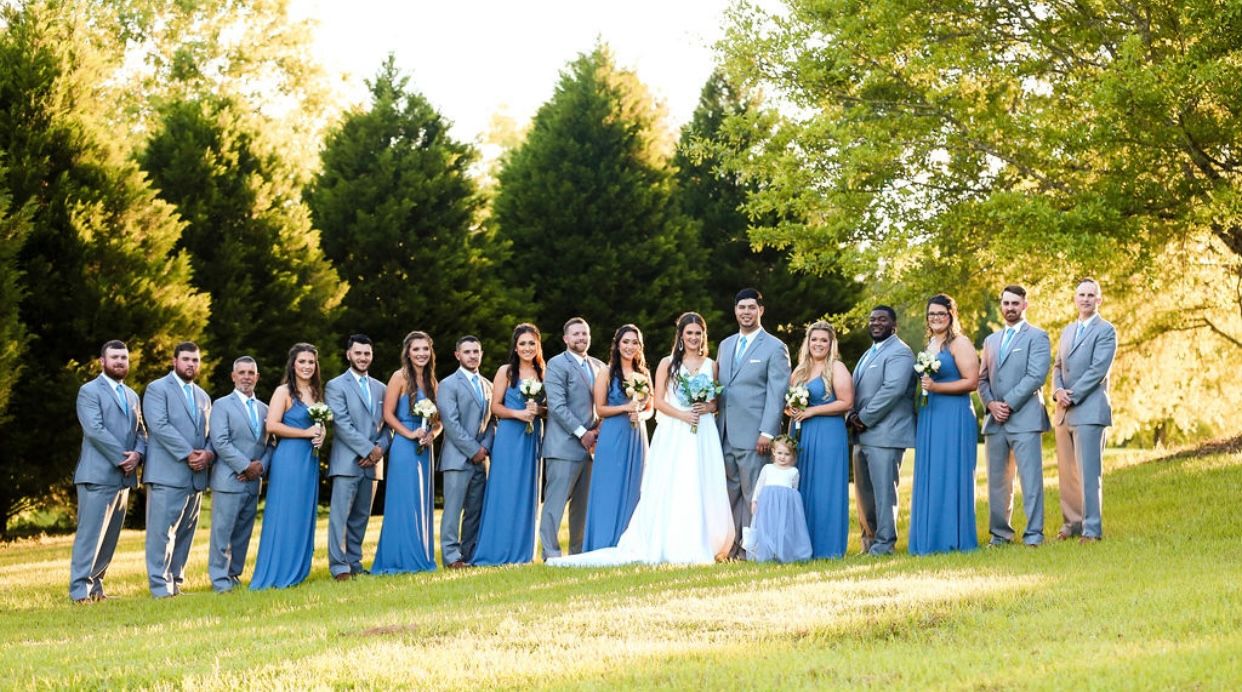 Picking Your Best People
We hope you're enjoying the wedding planning process…
Because we might be a little biased, but we think from here out it's just fun! 
Now that you have a guest list and your venue booked, you can start to focus on the pieces of your big day that make your wedding unique to you – like selecting your bridal party!
Who's Standing By You?
Your bridal party should be made up of people who are important to you both – people you can't imagine getting married without. 
They'll be in photos and memories of your big day for the rest of your life! They're witnesses to the love that you and your partner share. 
As such, you should take the time to discuss it together. Much like the rest of your life, your bridal party should be a decision you make together. 
You're probably already thinking about your people of honor, bridesmaids, and groomsmen. But don't forget that you can also ask people who are special to you to be ushers, flower girls, or ring bearers.
Consider what you're asking, and recognize that standing in a wedding can be a big commitment, in terms of both time and finances.
Your bridal party will have special roles at engagement parties, bachelor and bachelorette trips, showers, luncheons, rehearsal dinners, and any other special events that are a part of your wedding.
These extra commitments won't matter to the people who care about you the most, but what will matter to them is that you're aware of what you're asking of them. 
You'll also want to think hard before you select people who don't get along…because they'll be spending a lot of time together. You don't want your wedding festivities to be a source of stress for them, and you don't need negative energy on your big day. 
Part of your discussion with your partner should include these dynamics, putting together a group that meshes well and makes sense for your wedding day. 
Lastly, you might have heard that there are "rules". Rules about including your siblings, rules about how many people to include or not to include…
Forget all the rules. 
Only one rule matters: Once you ask someone to be a part of your wedding, you can't change your mind. So choose carefully and think before you ask.
You can have as many or as few people as you want, even numbers, odd numbers, matching numbers, non-matching….none of that matters!
What matters is being sure that the bridal party you've selected is definite before you start asking people to stand by your side. 
When you're ready to ask, you can prepare a special gift or note, or you can sit down together and make your ask in person without all the extra stuff. 
The moment will be special no matter how you ask – this is a big moment in your relationship, after all!
Make sure to give them all the information they need, like the date of the wedding and a general idea of the important events leading up to the wedding that you'll want them to attend.
(The last thing you want is to ask your best friend to stand by your side, only to find out that they're unavailable on your wedding day and can't change their plans.)
And that's really all you need to know! 
What are you waiting for?! Go get your bridal party!
More fun ahead! You have your best people, and you know what they're wearing. Now it's time to focus on you…

You know how this works by now…check back next month for your next steps, and in the meantime, visit https://thevillareservations.com/ to find out more about what The Villa has to offer!