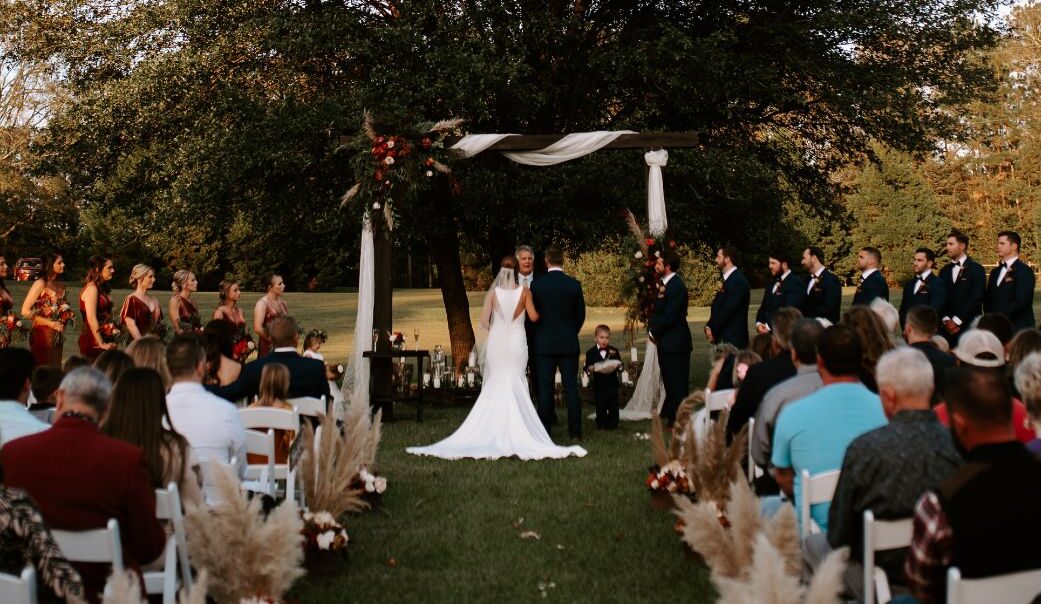 Your wedding will be a day that you will remember every detail of for the rest of your life, but how do you make your day stand out from any other wedding your guests have previously attended? 
We have all the different ways to ensure every guest walks away knowing they'll never forget your wedding!
VIP Moments
Before the ceremony even begins, help your nearest and dearest feel like VIPs by reserving the front row for them! This front row seat will give them the best view to provide picture-perfect memories of your entire ceremony. Just make sure to include room for your bridal party so that they get a good view as well!
Speaking of your closest family and friends, include them in the procession down the aisle by inviting one or two to be your flower girl and/or ring bearer! We love seeing little ones dressed in sweet dresses and mini tuxedos, but having a cousin, grandparent, or close friend take part in your big entrance as well makes for fun memories for everyone! 
Your Grand Entrance
When it comes time to make your grand entrance, consider walking down the aisle with your partner! This way, you can experience every bit of your big day together, and your guests won't forget how touching it is that the two of you were together from start to finish! This is especially sweet if you do a private first look before joining hands and walking down the aisle together. 
Ceremony Special Touches
You can get the celebration started early at the ceremony by offering a unity shot! This can be just for you and your partner after any readings are completed, or you can offer one to everyone (over the age of 21, of course) right before the first kiss. It'll make the perfect transition to the party at the reception!
A Social Media Minute
Lastly, include a social media minute to allow your guests to have a sweet photo to look back on while they wait for the professional pictures to be shared with them. Once you're at the front of the ceremony area, have your officiant announce that for one minute guests can take as many pictures as they want. They'll love that you thought of them every step of the way!
Disposable Camera Throwback
Give your guests the power of taking (some of) your wedding day photos by providing disposable cameras on the tables at your reception. Guests will feel they are fully participating in creating memories at your wedding, and you'll get to enjoy seeing your big day from a different perspective full of candids!
Gorgeous Guest Books
Put a spin on your guest book by thinking outside of the box! We love seeing interactive guest books such as providing a recording device that allows guests to leave you a heartfelt message that you'll hear in their own voice.
You can also have guests write their well wishes in a photo album that gets filled with photos taken in a photo booth or with a polaroid camera. Anything that allows guests to put a personal touch on their message will be a surefire hit!
Fun and Games
Let out everyone's inner child by including a rented bounce house or inflatable obstacle course! Not only will everyone have an absolutely joyous time, but the pictures from such a fun time will make your celebration a crystal-clear memory.
We know that no matter how you choose to make your big day memorable for every attendee, it's going to be a day that you cherish for the rest of your life which is what matters the most. We can't wait to see how your ideas come to life!
Have a question for us? We'd love to answer! Reach out today, and let's chat! https://thevillareservations.com/contact-us/