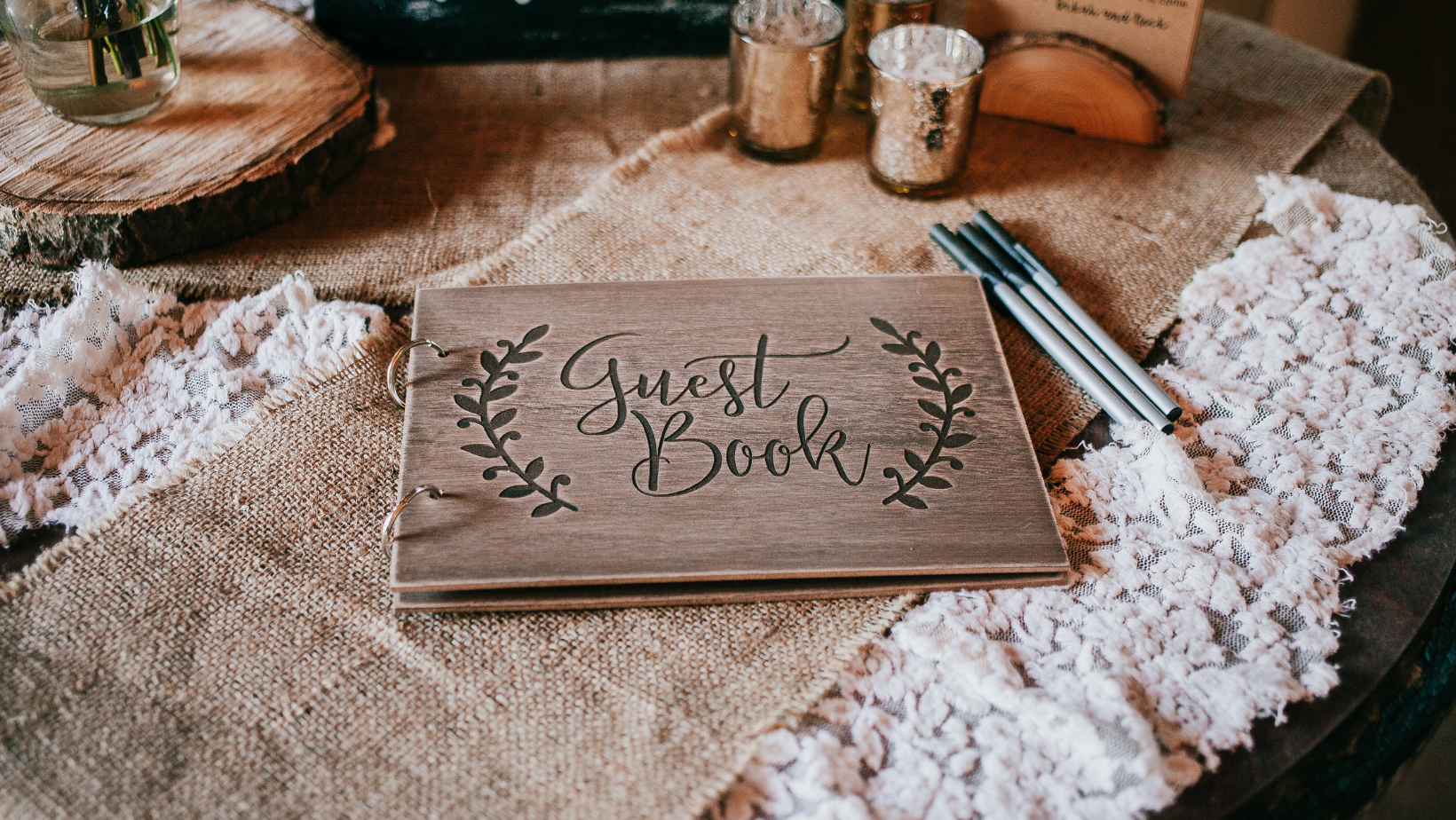 Guest Books to Swoon Over
Guest books are a great way to look back and remember all the wonderful people who attended your wedding, but a standard book with a list of names and maybe a spot for well wishes can get repetitive. That's why we're sharing some ways to change up this tradition! 
A Slight Twist
Want to provide your guests with the opportunity to jot down a note to you but want to do it a little differently than what you've seen before? 
Consider providing a polaroid photo album and note cards with fun pens or markers. Your guests will be able to write notes AND you'll walk away with a fun picture of all the guests in attendance! 
Another small change to the classic guest book? Use a custom photo album! 
Custom photo books can be made with engagement photos or pictures from throughout your relationship that family and friends can sign next to. You'll give your guests a sweet look at the relationship that led to your wedding – and you'll have well wishes next to some of your favorite photos.
This idea is especially fun if you include photos from previous occasions that your guests were a part of, like family gatherings, parties, etc.
Looking for something even more non-traditional? Try a "recipe book"!
Guests can leave their personal "recipes" for love and long-lasting relationships. It's such a sweet take on the traditional guest book. 
A Guest Book… But Make It Decor
One of our favorite trends is guest books that will later become a permanent part of your home – a daily reminder of your wedding and everyone you shared the big day with!
We recommend a canvas print or even a painting your guests can add to. For example: fingerprint trees that your guests can add their fingerprint to with their name. Or fingerprints with space allowed for short messages from loved ones.
Less interested in art? Choose a poster that holds a special memory to you and your significant other, such as a favorite band or movie, and allow guests to sign in any blank space. 
Or try something a little different – make your guest book into a piece of furniture! 
Wooden benches and chairs have plenty of space for guests to leave a message, and you'll get to see their well-wishes each time you use that piece of furniture. 
And perhaps our favorite idea…
Wine lovers look no further than wine bottle guest "books" or cork holders. 
Wine bottle guest books are wine bottles that are larger than the standard bottle and have enough space for guests to sign. You can drink the wine on special occasions and read the notes your guests left at the same time! 
Similarly, fashion wine corks into a guest book. Family and friends can sign a cork and add it to a jar or display case of your choosing. 
A Little Fun
Ready for a fun option? Choose a game or puzzle as a guest book!
Games like Jenga allow guests to write more than just their names. And jigsaw puzzles let guests feel like they are an important "piece" to your day.
What better way to add some fun to your big day than to include a game? 
No matter which option you choose, including pieces of your personalities in your guest book will not only make it more memorable for your guests, but you'll enjoy looking back on your big day that much more! 
With the new year approaching, we can't want to host your weddings in 2023! Contact us for more information when you're ready to book! 
Can't get enough wedding content? Follow us on instagram at https://www.instagram.com/thevillareservations/ or Facebook at https://www.facebook.com/thevillareservations!