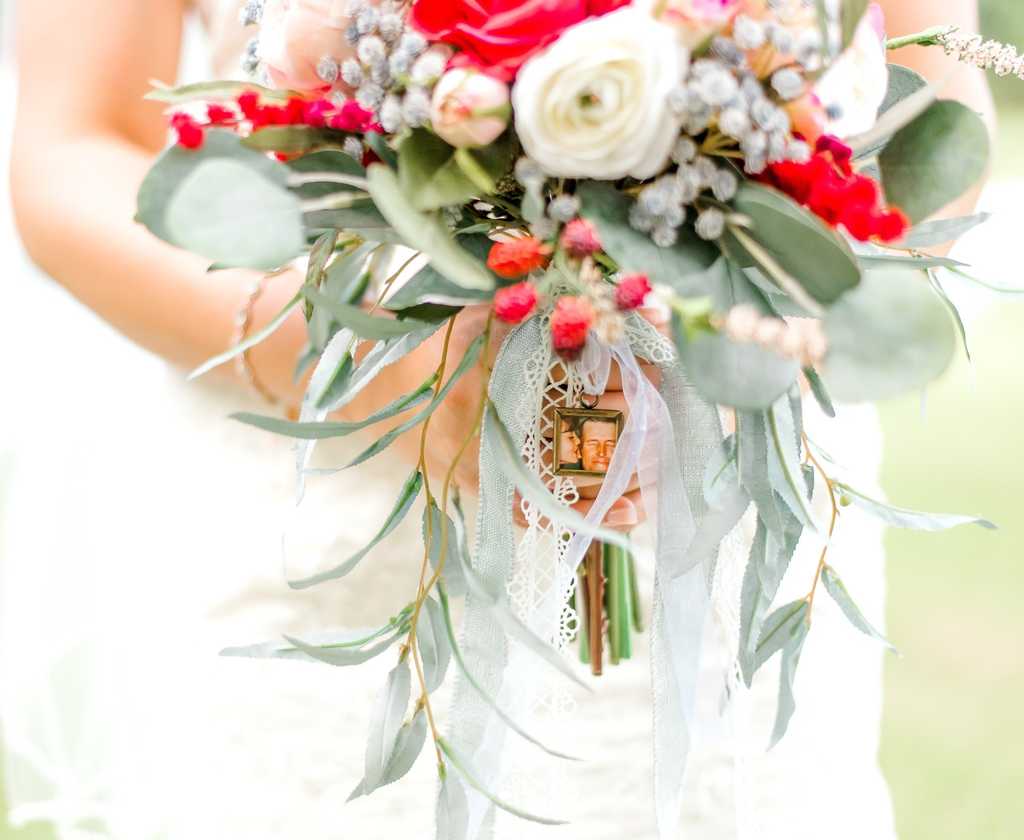 Florals Are Blooming
You may think flowers in weddings begin and end with your bouquet…
But they can be so much more! 
With spring in full bloom, we find it only fitting to go through all the ways you can incorporate florals in your wedding to help your aesthetics pop! 
The Bridal Party
The options of adding florals into your wedding are endless, but the easiest place to start is with the people who will be standing right next to you. 
If you're looking for a bold floral statement, consider picking bridesmaids dresses that have a floral pattern – especially if the flowers in the pattern match those that will be in bloom during the season of your wedding!
You can coordinate this with the groomsmen by using a similar pattern in their ties, vests, or boutonnieres. 
Speaking of boutonnieres, don't be afraid to include more than one flower. Your florist is an expert and can help you decide exactly which combinations will fit your aesthetic best. 
If you're looking for a more subtle touch of florals, think about having your bridesmaids' bouquets be all white while yours has pops of color like those found from ranunculus, hyacinths, orchids, hydrangeas, or peonies.
Not interested in your bridesmaids having all white bouquets? Consider varying their bouquets so that each has a different pop of color. You can even coordinate this with the groomsmen so that their boutonnieres match the bouquet of the bridesmaid they walk down the aisle! 
Beyond the Bouquets
The bright flowers don't have to stop at the bouquets and boutonnieres! 
It's your day, so feel free to incorporate flowers as much as you like so that your day is as bright as your love is.
Floral arches are a gorgeous way to add florals to your big day and will make an unbeatable backdrop for your wedding photos. 
You can also line walkways or the dance floor at the reception with flowers…because we all know adding those little details can go a long way! 
Just make sure to confirm with your venue coordinator before you give your florist the go-ahead. 
For other subtle ways to incorporate florals into your big day, consider using floral tablecloths or floral napkins for a seated dinner.
You can also give away seeds as party favors so that your guests can grow flowers reminding them of your wedding for months to come!
Speaking of favors… if you're considering using small potted flowers as your centerpieces, these make wonderful favors for your guests! 
An out-of-the-box idea that we can't get enough of?
Providing single flowers to your guests as they enter the reception and including bobby pins or safety pins. This way, they can fasten the flowers to their outfits or in their hair. 
You'll have pops of color AND these will make for some stunning photos!
Single flowers handed to guests can also make for a fun, interactive option in which guests put their flowers in the center of their table at the reception to create a beautiful centerpiece AND a conversation piece.
If you have any flowers remaining when the night is over, you can donate them to local hospitals or shelters to help spread the joy all around you.
Like we said, the options of how to include florals in your wedding and reception are endless. 
But if you're looking for more ideas, ask your florist, a representative from your wedding venue, or your wedding planner if you have one. They will be more than happy to make your vision become a reality!
You know you can count on us to bring you all you need to know for wedding planning, and we'll be back next month with more. 
In the meantime, head to thevillareservations.com for more!