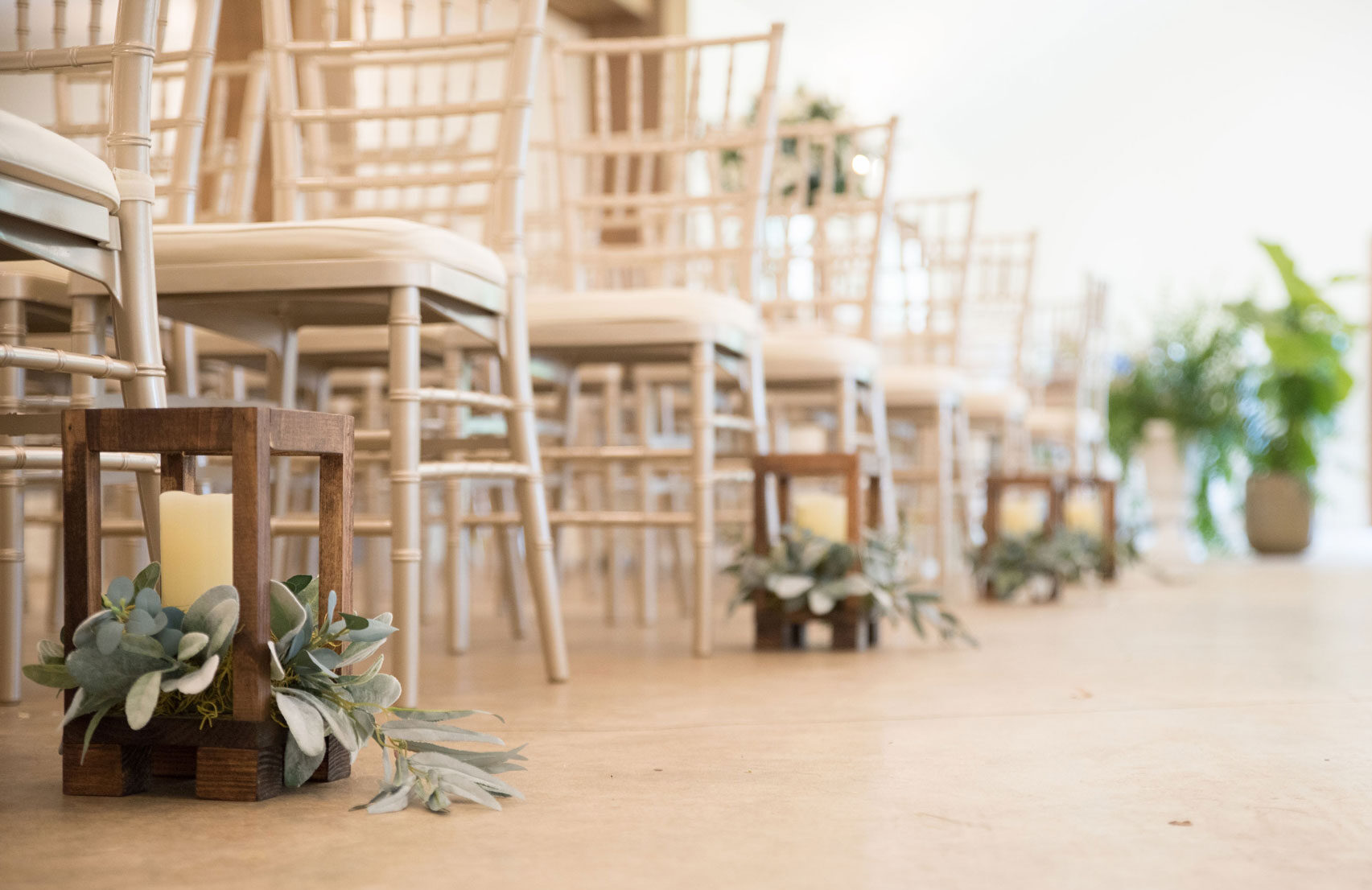 Finding Your Venue & Curating Your Guest List
So you've announced your engagement, set a date, drafted your budget, and figured out your wedding aesthetic. 
Guess what? You've gotten some of the hardest parts out of the way! 
From here everything will fall into place. 
Next we'll cover a few of the bigger ticket items that you should take care of as soon as possible.  

Outline Your Guest List
We know this can seem like an overwhelming task, but if you take it step by step (and recruit help), it'll be easier than you expect. 
First, you should always have a draft of your wedding budget ready before you start working on your guest list. That way, you avoid listing 400 people when you can really only host 200…and you can avoid crossing people off your list after you've already added them on.
And if you have your budget drafted, that means you also have an estimated number of guests you can invite. 
You'll want to start with immediate family and friends. Then reach out to your parents and your future in-laws to find out who they'd like to include in your big day. 
You don't need addresses right away, just names. But before you can start looking at venues, you need to know how many guests you expect to have. 
Don't Forget: When it comes time for addresses, recruit your parents, grandparents, in-laws, and other family members to help track down your guests' addresses! More than half the work will be done, and you won't have had to lift a finger. 
They might even start working on addresses when you ask for names, so you'll already be a step ahead!
Pro Tip: Has someone in your family gotten married recently? Reach out to them and ask if they will share their guest list with you! Just like that, you'll have all the addresses you need!

Book Your Venue
Now that you have an estimated number of guests and since you've already outlined your aesthetic (see our last blog post for advice if you're still trying to figure yours out), you've automatically narrowed down your venue options – and that's a good thing! 
Now you can start searching for venues that match your vision and your guest count.
You can start from scratch by browsing for venues in your area (unless of course you're planning a destination wedding, and we'll get more into that later on the blog).
Or you can utilize a wedding service to help you with your search. Most wedding services allow you to search by budget, guest capacity, location, and style. 
Once you've narrowed your search down to five or fewer venues, it's time to reach out to those venues for more details. 
You'll want to confirm that they can accommodate your guest count and most importantly: if they're available on your wedding date.
Remember when we recommended choosing a wedding date and a backup date? If you already know what your dream wedding venue is, and you won't settle for anywhere else, this is when your backup wedding date will come in handy. 
If your potential venues are available on your date, schedule site visits with each venue to meet their wedding coordinator and find out if they are the venue for you! 
While you're touring your venue, you'll want to ask questions to make sure the venue fits your budget, guest count, and aesthetic. 
But there are some questions you might forget to ask, like:
Do you have a dance floor, or will we need to rent one?

Do you have restrooms for guests?

(We know it sounds silly, but make sure your venue has them!)

How much time do we get to set up and clean up?

Are outside vendors allowed?

Is the venue ADA accessible?
There's no such thing as too much information when it comes to your venue! 
Lastly, and perhaps most important of all – ask if they offer "first right of refusal" for your date. Though most venues will not reserve your date until you have signed a contract, many will offer first right of refusal. This means that since they know you're interested, if another couple reaches out for the same date, they'll contact you to let you know – which gives you the chance to sign your contract quickly and lock in your date!
Whew! You've selected your venue and you know who to invite!
Check back next month for your next steps, and in the meantime, visit https://thevillareservations.com/ to find out more about what The Villa has to offer.