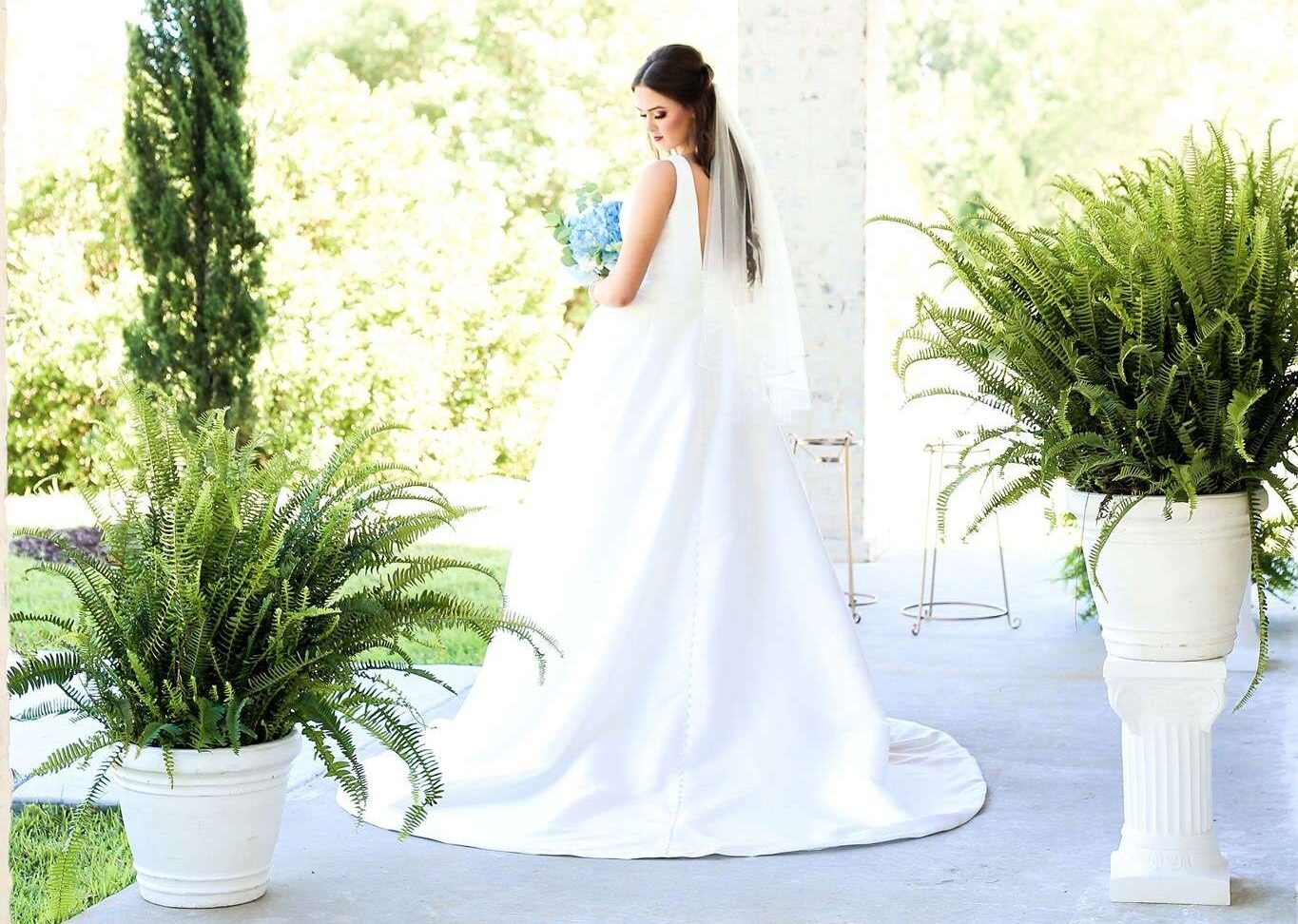 Finding Your Outfit
It's finally time! You've made all your initial plans, and now it's time to focus on you.
That's right: it's time to pick out what you're wearing on your wedding day!
What Are You Wearing?
Now that you know who's standing by your side, it's time to start figuring out the finer details.

The first thing to do is find your style. Are you modern? Classic or traditional? Romantic, boho, glam, or non-traditional?

Do research to find the types of dresses you like. Save a few photos and pick some details you can't live without – like lace, long sleeves, or certain materials. 

Then branch out a little. Start to explore options you might not have initially considered. For example, if you've always wanted an a-line silhouette, consider a trumpet silhouette as an alternative.
You might find a style you like that you hadn't considered before!
Once you have an idea of what you want, start looking for bridal shops near you. If you're interested in non-traditional options, be sure to search for shops that have those options in stock. Don't be afraid to call and ask questions!
Remember that some shops require appointments, so be sure to make those in advance. 
You'll also want to consider how many people you'd like to bring with you (family, members of your bridal party, etc.). Do you want to go by yourself the first time to sort through the dresses you don't like? Take along just one person to get a feel for how the process works?
Whatever you choose, bring along those people who will support you in finding your dream dress, rather than people who want you to wear what they like.

So now what?
You've done all the research, you've picked your dress squad, and you've made appointments. It's time to try on dresses!
If you're someone who likes to be prepared, take with you any shapewear you might like to wear or a pair of shoes around the height you plan to wear on your wedding day. It's easiest to envision a dress as "the one" when all the conditions are right! 
Now for the most important piece of advice we can give you…

Keep an open mind! 
The professional fitters who will help you find your outfit are experts at dressing people of all shapes and sizes. They have seen so many outfits! You may find that you love what they find for you, even if it wasn't a style you initially envisioned. 
They may also have recommendations based on what your partner plans to wear! 
Since you've already figured out your budget, you know what amount you are willing to spend on your attire. Let your fitter know what your budget is up front so they can help you stick with it! Don't try on dresses out of your budget – you'll only make the try-on process more difficult and waste your time.
A huge piece of finding your dream dress is that it feels right for you. If it doesn't, don't say yes! Don't be afraid to take your time and shop around. Unless it's a second-hand dress or a sample-sale dress, you'll still be able to order it later once you've picked it out! 
And don't forget to add a veil, tiara, or belt to your ensemble if you're looking for extra flair!


But…what happens when you find the one?!
Celebrate, obviously! 
Then place an order! 
Keep in mind that bridal sizing is very different from regular clothing pricing. Don't be surprised if your fitter lists two to three sizes higher when ordering. 
And remember that you should always order a dress that fits you now, even if you plan to lose weight. That's what alterations are for!

Congratulations! We are so glad you found your dress and can't wait to see you in the outfit of your dreams!
You know how this works by now…check back next month for your next steps, and in the meantime, visit https://thevillareservations.com/ to find out more about what The Villa has to offer!