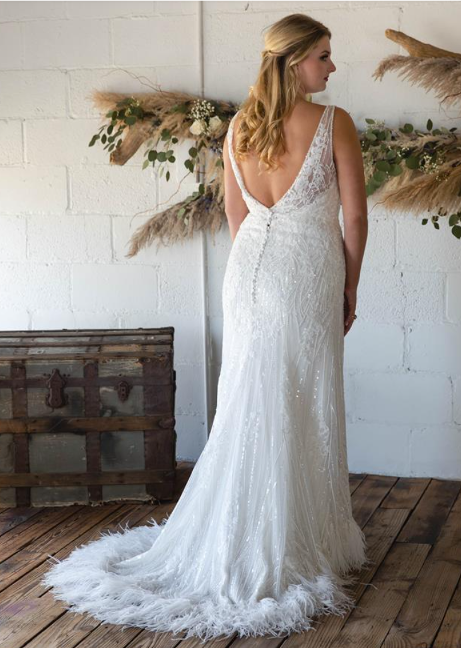 Wedding Dress Decisions: How to Dress for the Big Day?
Your wedding day is one of the most important days of your life!  This day is about you, your partner, and the love you have for each other, but…it's also a little bit about the dress. Okay maybe a LOT about the dress. Princess dress, minimal dress, lacy dress, your choice!  So, what type of dress are you looking for and how do you even decide?  Here are some popular wedding dress styles and great stores to find them in Mississippi.
Short Wedding Dresses
According to The Knot short dresses are the number 1 trend for 2022.  They are fun and flirty, and you will definitely be able to dance the night away in a short dress.  David's Bridal in Hattiesburg has a great collection of tea length dresses for you to choose from.  Brides.com has 18 short wedding dresses for your ceremony, second look, reception and more.  Short dresses give you the opportunity to showoff a great pair of shoes that you wouldn't be able to see in a long dress.  Have fun flaunting your legs!
Floral Motifs
Another trend for 2022 are floral motifs.  Brides.com has seen the floral motif trend with three-dimensional floral appliques on long gowns with sequins and beading.  Checkout these beautiful dresses with floral motifs from Mimi's Bridal in Natchez, Mississippi.   This beautiful trend is romantic and whimsical.  The floral motif is great for a spring wedding.  Not only will you be a blushing bride, but a blooming bride with a floral dress.
Ruffles and Feathers
Drama!  Dramatic ruffles are making a comeback for 2022.  Wedding Wire says that ruffles are a wonderful way to feel like a princess.  Some might even say that ruffles will make you an angelic bride.  The Wedding Collection in Bay St. Louis can help you find the perfect ruffle dress.   The Washingtonian has some great photos of ruffle dresses from the virtual New York Bridal Fashion Week.  Ruffles are the way to go if you are looking for romantic drama on your wedding day.
Are you feeling ethereal and light as a feather?  Well, you are in luck, feathers are in for 2022.  Brides.com saw this fluffy detail on the virtual runway in New York this year.  Feathers are an embellishment that will add an unexpected twist to your wedding day.  Love Birds Bridal Boutique in Hattiesburg, Mississippi will be able to help you say yes to a feather dress.
More Trends: Necklines, Sleeves, and Legs
Some other trends that are popular for 2022 are square necklines, Bridgerton inspired dresses with puffy sleeves and corsets, and high-leg slit dresses, watch out Angelina Jolie!  Trends are helpful if you are not sure what style you are looking for, for your big day.  Pinterest, The Knot, Brides.com are great resources to help you with wedding dress ideas.  The Knot.com has a wedding dress quiz to help you find your perfect dress.  Remember that at the end of the day it's about you.  Make sure you feel comfortable and beautiful for your wedding.
The Villa can make sure you have a place to get ready for you big day.  The Villa provides Bride and Groom Suites, so you can dress your best.  The bride suite includes a kitchen, full bath, a large decorative full-length standing mirror, a 4-station granite topped dressing table and an antique couch and armoire.  The groom suite includes, a kitchen, full bath, living room for seating and a private dressing room.  The Villa is here to provide you with a beautiful wedding venue for your ceremony, reception, or both.  Our coordinators are here to make sure your day is everything you wished for and more.  Visit https://thevillareservations.com/ to find out more about what The Villa has to offer and keep up with our monthly blogs for more great wedding ideas.