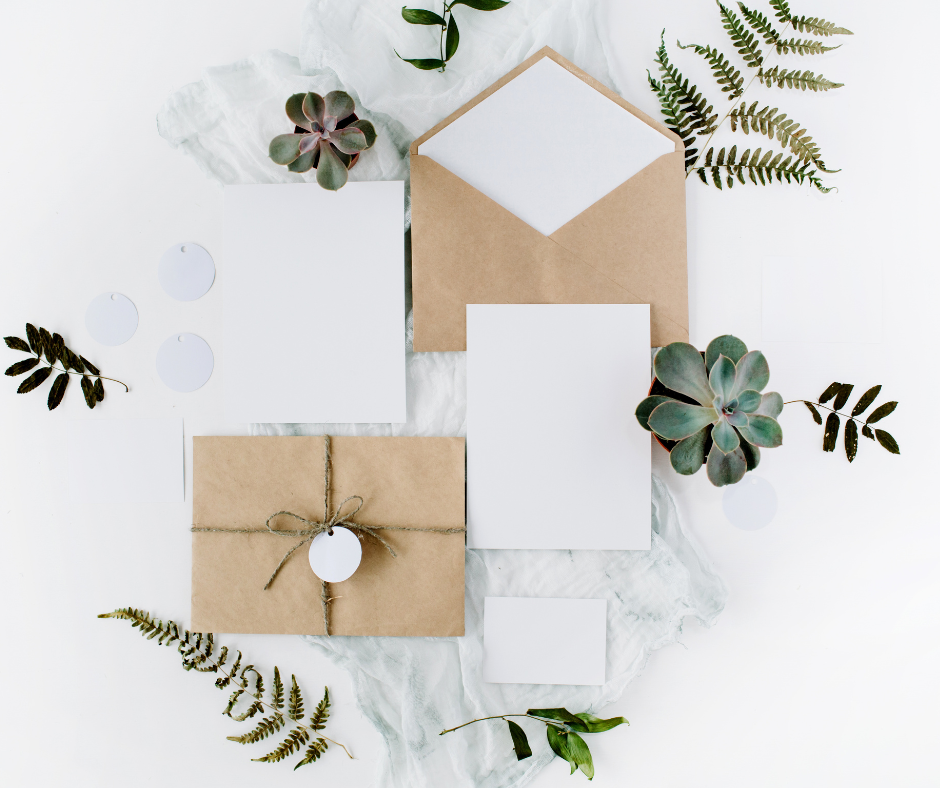 All Things Invitations
Invitations set the tone for your big day and can seem like a monumental task since they are the definition of small details. 
Don't fret, though, because we have you covered with everything you need to make your invitations exactly what you want and need! 
What to Include
It may seem obvious, but every invitation should start with the event that your guest is being invited to. So whether you say "you're invited!" or "we request your presence," your first task is to include a line letting guests know exactly what they are receiving mail for. 
Next up are the names of the happy couple! 
It's completely up to you whether you prefer to include middle names, nicknames, or even just first names. 
While the "traditional" style is to state the bride's name first, if this doesn't fit your style, change it up! This day is about you and your preferences.
Now it's time to say where the wedding and reception will be held. You can include one line for each if they will be held at separate venues – or just have one line if everything will take place at the same venue. Including the address of the venue(s) is up to your preference. 
If you enjoy a minimalist approach, only include the name of the venue as well as the city it is located in so that guests can look up the address on their own.
Include the specific date and time of your wedding after naming the venue(s). This way all the information your guests need in order to be in the right place at the right time will all be in one spot.
If you have anything else you need to include for your guests, acknowledge it toward the bottom of the invitation. 
This kind of information may include notes about transportation between venues, dress codes, your wedding website URL, or registry information.
The very last thing to state on your invitation is your ask for an RSVP and the method for your guests to do so…whether that's returning an RSVP card that you've included with the invitation or filling out a form on your wedding website. This way, you'll have that headcount without having to call your guests individually.  
Other Details to Consider
Be specific. The names you include on the invitations will let your guests know exactly who can attend. This is where you get to say whether someone can invite a "plus one" or determine whether children are invited as well. 
When to order? Order your invitations at least 1 to 2 months before you're planning to send them out. You can always order them even earlier as long as you have the basic info we talked about above already planned out. It's never a bad thing to be ahead of the game. 
When to send? The timeline for sending your invitations will depend on a few specific details about your big day. If your wedding is a destination wedding, your guests will require more notice in order to arrange traveling, so send your invites about 3-4 months before the wedding day. If your wedding is local, send the invites out about 2 months in advance. (Mail your save the dates 6 to 9 months in advance to start the excitement early.) 
Our biggest piece of advice? Make your invitations how you want from the font and sizing choices to the way it's worded – it's still a part of YOUR day! 
Next month we'll discuss room blocks and guest accommodations …and we can't wait! 
Questions about booking your event at The Villa? Visit https://thevillareservations.com to schedule a tour or reach out to have a chat!